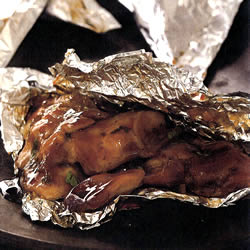 One of our most frequently asked questions about cooking the meat in the share is "What should I do with the chicken?" I was having that conversation with a new member recently when another member offered a GREAT idea! Rachel very generously took the time to write her method up, so I can share it with all of you...enjoy!
This works well with a half chicken on the bone. If I only have a whole I'll cut it in half. I'll do up to three at a time and season them all differently. May need to cook a bit longer if oven is really full. I'll do this on a Sunday afternoon or evening since I'm generally puttering around the kitchen anyway.
Place chicken on large square of tinfoil. Season as desired then wrap the foil up around the chicken with a small vent at the top. As if it were a crab rangoon or purse dumpling. Bake in the oven at about 375 for 45mins to 1hr depending on size of chicken. I pierce with a knife at the joint and make sure juices run clear to check it's done. All the juice is staying in that foil pouch anyway so you're not loosing moisture. Allow chicken to cool in foil pouch. Close foil over top so it's sealed and store in fridge until you want to eat it. Shred off the bone and you're done. Great for pastas, stir fry or fry rice, salads, soup, tacos - anything in a South American vein works well.
Notes- You will never get crispy skin doing this. But you will get fat and moisture. I just peel the skin off before I shred the meat. Also, the juices and fat will congeal at the bottom of the foil packet. I'll heat that gel up in a pan and use that instead of oil or butter if I'm reheating the chicken. That gel adds yummy flavor to pasta sauces, too. You can leave seasoning large - whole garlic cloves, a whole chipotle pepper etc because they are in such cozy quarters with the chicken so the flavor will permeate and be lovely. A lot of those larger seasonings can be added to the end dish.
These are my favorite seasonings for the pouches...all plus salt, pepper and a little rub of oil.
Half a lemon, big sprigs of rosemary and/or thyme or a good TBSP of dry herbs, and whole, peeled garlic cloves.
Lots of grated ginger, sesame oil, Chinese 5 spice and a big squirt of Sriracha.
Packet of taco seasoning, a halved lime, and a TSP of adobo sauce.
Olives, sun dried tomatoes (fresh tomatoes do not do well!), and a TSP of dried tarragon. Reconstitute it all with some white wine and add the shredded chicken for a very yummy pasta sauce.
Hope you like it! I was finding myself putting off making the chicken because I didn't have time in the evenings. This makes life so much easier.